Podcast: Play in new window | Download (Duration: 18:04 — 14.8MB) | Embed
Subscribe: Google Podcasts | RSS | More
Do you ever find yourself worrying about your loved ones rather than praying for them? I know I do. A woman in one of my Bible studies once said that worry is the enemy's manipulation of prayer. In today's podcast, we'll be talking about how to pray for loved ones.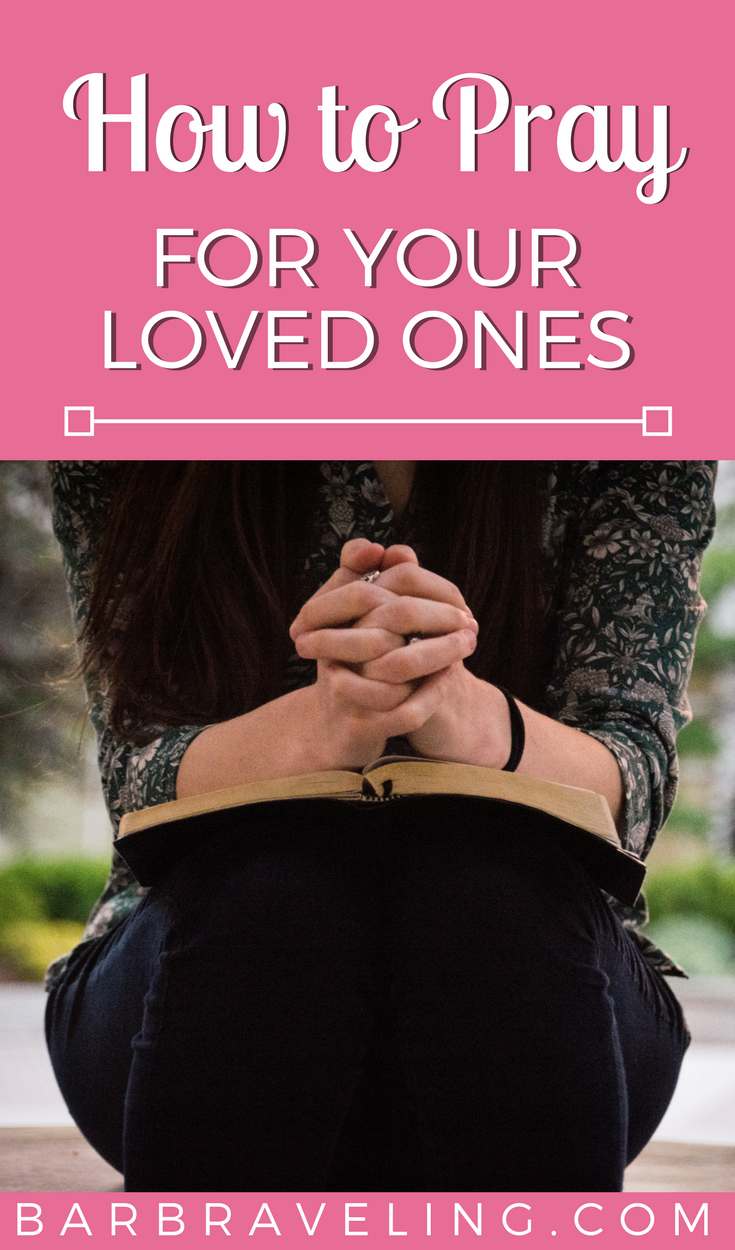 Here are the seven steps we'll be discussing, all based on Philippians 1:3-19:
How to Pray for Loved Ones
Thank God for what He has already done in them. (vs 3-5) So often we dwell on the worrisome in our loved ones and ignore all the things to be thankful for. God has already worked in their lives and for that we can be thankful. This first step is all about thankfulness and dwelling on the good. That's important when there is so much we can dwell on that isn't good. After all, isn't that one of the reasons we're praying? Because we're worried?
Recognize that He who began a good work will complete it! (vs. 6) So often we forget that and think that we're the ones beginning the good work and we need to complete it! And so not only do we worry and fret, we also do whatever we can to control this situation–forgetting that God is the one who is really in control! This step is all about trusting God and thanking Him for who is He is in this situation.
Mentally give up control to God. This step isn't in Philippians 1:1-21 but it's a natural outgrowth of the first two steps. As we recognize who God is and who we aren't, it becomes apparent that we need to give up control. But we're not really giving up control–we're giving up the illusion of control. Because let's face it–we can't control everything we want to control in life! Because of that, it's helpful to take a moment to realize that and release the reigns (that we never had) to God.
Remember that we are fellow partakers of grace. (vs. 7) So often when we pray for others, we subconsciously think of ourselves as the wise, mature ones and those others as the ones who really need God in their lives. Here's the truth: even if we're more mature (and that's not always the case), we're still on a level playing field. We both need Gods grace. We are fellow partakers of His grace. This helps because it makes their situation seem less desperate. It's not us up here and them down there. It's both of us needing grace from God.
Pray for them. (vs. 9-11) All right. Finally–at step five–we're getting to the point where we are actually praying for what we think they need. But here's the thing. What we think they need is often different than what God thinks they need! If you look at Philippians 1:9-11, Paul wasn't praying that the Philippians would have great lives on earth. He wasn't praying for fun and easy, which is what we often pray for. He prayed that their love would abound more and more in real knowledge and discernment and that they would know the hope of His calling. We'll talk more about that on the podcast.
Remember that what is happening to our loved ones can serve to advance the gospel–both in the world and in their own lives. (vs. 12-14) In these verses, Paul talks about how his own trial–his imprisonment–is serving to advance the gospel. His mom may have been worrying about him, but Paul was saying, "No, this is okay. It will advance the gospel." Trials can bring our Christian loved ones closer to God and mature them and it can bring our non-Christian loved ones to God. Remembering that will help us feel better about what they're going through.
Remember that our prayers matter and that the Holy Spirit is also working in the lives of our loved ones! (vs. 19) We may not be able to do everything we want to do to help our loved ones–for example, we can't snap our fingers and have all their problems disappear–but we can pray for them and know that it makes a difference. I love what Paul says in verse 19: "For I know that through your prayers and the help of the Spirit of Christ, this will turn out for my deliverance."
Intercessory prayer is a privilege. God uses those prayers for the good of the ones we love. We may not know exactly how that works but we don't need to. All we need to know is that God asks us to pray and somehow our prayer affects things. Not just in the lives of the ones we're praying for but also in our own lives.
On the podcast we'll talk about each of these steps a little more thoroughly and give you time to pray after each step so that we can put these things into practice while we study them. If you don't listen to the podcast, I would encourage you to try praying through these steps on your own to see if it helps in praying for our loved ones.
How to Pray for Loved Ones Who Aren't Saved
Many of Paul's instructions will work for your loved ones who are either saved or unsaved–but some of his remarks are Christian-specific. If you'd like some help with how to pray for your loved ones who aren't believers, check out this article: How to Pray for Your Loved Ones Who Aren't Saved.
If you'd like some encouragement about praying for your unsaved loved ones, check out this book: Confessions of St. Augustine.
Why don't we close by praying for our loved ones together? As you finish reading this post, pray for your own loved ones and for the loved ones of everyone else reading this post!