Wouldn't it be nice if we could solve all our eating problems in three weeks? I've been madly racking my brains for the last month trying to come up with a Bible study that would do just that.
I'm coming up empty.
Not only do we all have different problems with food, we all have different levels of bondage to food. Some of us are at the "I just want to lose a few pounds stage," and some of us are at the "food is totally controlling my life stage."
No matter what stage we're at, though, we all need the same thing: a biblical perspective of life and food – so that's what we'll focus on in this study.
I'll give you assignments for the renewing of the mind, Bible study, and self-analysis you can use to spend time with God in working through your eating issues.
Before we begin, though, let's make sure we have our plan in place. This is what you'll need to establish today.
The Plan
Choose your boundaries. (In case you're not familiar with how links work, look back at that word boundaries. It should be highlighted. If you click on it, it will take you to a post on boundaries. Any time you see a highlighted word, you can click on it for more information.)
Establish secondary boundaries, if necessary, but try not to set too many. Your main focus should be on your primary boundaries.
Make a renewing-of-the-mind goal.
Find an accountability partner, if possible, to do this with you.
Get a journal you can use for the Bible studies and exercises in this series.
Download the iPhone app I Deserve a Donut or get the book – I'll also be including some of the Donut questions in the Bible study.
Note: If you're not familiar with the renewing of the mind, read The Renovation of the Mind. Today's Bible study is also about the renewing of the mind.
The Challenge
For the next three weeks try to spend at least as much time renewing your mind as you do exercising – or watching television – or some other activity you always make time for.
Get up in the morning and prepare with truth. Then renew your mind throughout the day with truth. The more time you spend preparing your mind before temptation and in the early stages of temptation, the more likely you'll be to say no to temptation.
If you have a hard time making yourself renew your mind, read this post: 8 Questions to Ask When You Don't Want to Renew Your Mind.
Assignment 
Write your plan (from above) in your journal and start following it.

Do this Bible study with your eating issues in mind: Working with God on Your Goal.
Write the answers to the questions at the bottom of this blog post in your journal. Take some time and really think through the answers.
P.S. If anyone wants to share their goals for the renewing of the mind or boundaries in the comments, it would be fun to hear what everyone's doing!
Taste for Truth 30 Day Weight Loss Bible Study
In the summer of 2012 I posted these weight loss Bible studies to go with the I Deserve a Donut app I'd recently published. They were so popular I decided to write more Bible studies plus edit and expand the ones I'd already posted. The book is called Taste for Truth: A 30 Day Weight Loss Bible Study.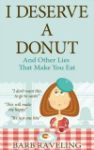 A helpful companion book is I Deserve a Donut (And Other Lies That Make You Eat), which is also available as an android or iPhone app. Taste for Truth is a 30-day study and I Deserve a Donut is a tool you can use to renew your mind on a daily basis for ongoing weight loss/maintenance and to work through other problems in life.
 Following Your Boundaries Questions
Is there ever a good (i.e. easy)  time to follow your boundaries faithfully?
What would you gain by starting today to faithfully follow your boundaries, even when it's difficult?
What do you think will happen if you don't start today?
What sacrifices will you have to make to lose and/or maintain your weight?
Do you have to make those sacrifices no matter when you make that commitment to follow your boundaries?
Do you think it would be better to start following your boundaries faithfully now and just get it over with, or is there a good reason to wait?
Are you the type of person who can go without boundaries in this area of your life and still maintain your weight? If not, what will you need to accept?
When you think of what you feel like on the days you eat everything you want to eat, are there even some advantages to a strict-boundary lifestyle? Explain.
What will your life and body look like a couple of months down the road if you continue to renew your mind every time you feel like breaking your boundaries?
When you think of all you have to gain, is it worth following your boundaries today?