Podcast: Play in new window | Download (Duration: 22:09 — 19.0MB) | Embed
Subscribe: Google Podcasts | RSS | More
Often before a trip, I'll wake up in the middle of the night with my mind buzzing. I remember all I have to do and have a hard time getting back to sleep. That happened last night, so I got up and had my quiet time. I was having a hard time focusing so I decided to do some Scripture meditation. It wasn't long before God's peace washed over me and I felt better about the day. On today's podcast and blog post, I'd like to talk about how to meditate on Scripture.
What is Scripture Meditation?
According to Google, the definition of meditate is to think deeply or focus one's mind for a period of time. So when we meditate on Scripture, we're not just reading through it. We're taking time to really think deeply about it. And the deeper we think, the more it seeps into our bones so God can use it to change us.
This morning is a good example. I began my quiet time stressed with all I had to do today. But by the end, I was completely relaxed and feeling peaceful about my day. That wouldn't have happened with a quick read of a short devotional or a passage of Scripture.
I needed to deeply interact with God and the Bible in order for it to change me. And thankfully God gave me the perfect Bible passage this morning in my regular reading to give me the help I needed today.
What's the Difference between Meditating on Scripture and Bible Study?
Bible study is all about getting to know and understand God's Word. That's a good thing. But Scripture meditation carries it a step further as it's about soaking in God's Word and applying it to our lives, allowing it to shape us and change us.
BillyGraham.org puts it this way: "When we meditate on the Word of God, we seek to make personal application of the Scriptures to our own lives and circumstances. This results in more than the intake of information; it transforms by leading to the formation of the individual into Christlikeness."
Below this paragraph, you'll see an example of a Scripture meditation I did on Luke 8:4-15. You can see what I wrote in my journal, but I also spent time thinking about what I was seeing in the Word and talking to God about it. The little box on the left about halfway down the page was where I applied the passage to my own life, which led to some good prayer time with God and insights I could apply to my life.
How Do You Meditate on Scripture?
There is no written procedure in the Bible for meditating on Scripture, and I'm guessing you already have your own way of doing it. But I thought I would include a few tips here in case you haven't tried it before.
Find a quiet comfortable place. You can meditate on Scripture anywhere, but it helps to have someplace you can completely focus on the Bible passage.
Choose a small portion of Scripture. This could be anywhere from one verse to three or four verses to a very short chapter of the Bible. If I'm meditating on Scripture for my quiet time, I'll choose a longer passage than if I'm meditating on Scripture to break a habit.
Consider diagramming the Bible verse. I often do this in my journal. I'll look at the verse and start drawing it out in my journal. This helps me make sense of it and see the connections between the different parts of the verse. You can see an example of this in my previous journal image and also later in this post.
Think about the imagery of the verse. If the verse describes God or someone else doing something, imagine what that would have looked like. For example, Zephaniah 3:17 talks about God rejoicing over us with singing. Close your eyes and picture Him doing that with you. If the verse talks about things in nature, picture what that would look like.
Ask what the verse means on a practical level. For example, Proverbs 23:17-18 tells us not to envy. Ask yourself, what does envy mean? What would that look like in my own life? Do I envy? Is there anything I need to change? How could I go about that? Think about how you could stop being envious, then spend some time in confession and asking God to help you change.  Meditating on Scripture is all about getting to know what that Bible verse means and then soaking it in and letting it change you. These kinds of practical questions can help with that.
Ask God to give you insight. The Holy Spirit is our counselor and He can help us understand Scripture. But occasionally, we're stumped and we have a hard time knowing what a verse means. When that happens, try the next step.
Check out a good commentary. BlueLetterBible.org has lots of good commentaries you can use to gain insight on a Bible passage. I would try to learn as much as you can without a commentary first, but then use a commentary for added insight if you're having a hard time understanding the passage.
Scripture Meditation: An Example Based on Psalm 95:1-7a
When you're learning a new skill – or interested in seeing how others do things – it can be helpful to look at some concrete examples. We looked at an example of Scripture meditation earlier from my journal. Below you'll find another example of how I meditated on Psalm 95 this morning.
Psalm 95:1-2: 1Come, let's sing for joy to the

Lord

, Let's shout joyfully to the rock of our salvation.2 Let's come before His presence with a song of thanksgiving, let's shout joyfully to Him in songs with instruments.
The first thing I noticed was that David asks us to do four things. So I wrote the word ME on the left hand side of my journal page and circled it.  Then I drew four lines going out to the right in sunshine fashion. At the end of each line, I wrote one of the things we're supposed to do:
Sing for joy to the Lord.
Shout joyfully to the rock of our salvation.
Come into His presence with a song of thanksgiving.
Shout joyfully to Him in songs.
I noticed there was a lot of joy going on–something I needed at the moment! I looked at the next verse and realized that it told us why we can be joyful:
3 For the 

Lord

is a great God and a great King above all gods.
The first thing I noticed about this verse is that we can be joyful because the Lord is a great God. NOT because:
life is going great
all our loved ones are doing well
we're all caught up on our to-do list
So even though my life felt overwhelming at 3:00 am (and not super great), I could still rejoice because the Lord is a great God no matter what is going on in my life!!
The next things I noticed about that verse is that He is a great God and a great King above all gods. I spent a little time thinking about what kings were like and didn't get a lot out of that.
Then I noticed it said all gods. I thought to myself, What other gods is David talking about? There's only one God. Then I realized, Oh, he's talking about idols.
That's when I realized why I was stressed. I was making other things–getting things done before my trip for example (including writing and taping this podcast)–more important than God wanted to make them. So I spent a little time talking to God about that and repenting and then I went back to the Scripture.
4 In whose hand are the depths of the earth, t

he peaks of the mountains are also His.

5 The sea is His, for it was He who made it, a

nd His hands formed the dry land.
This passage led me into meditating on God's creation. I thought about the depths of the earth (backpacking with my family to the bottom of the Grand Canyon), the mountains I've climbed, and visits to the beach.
I thought about how free I feel when I'm in the wilderness and the majesty of God's creation.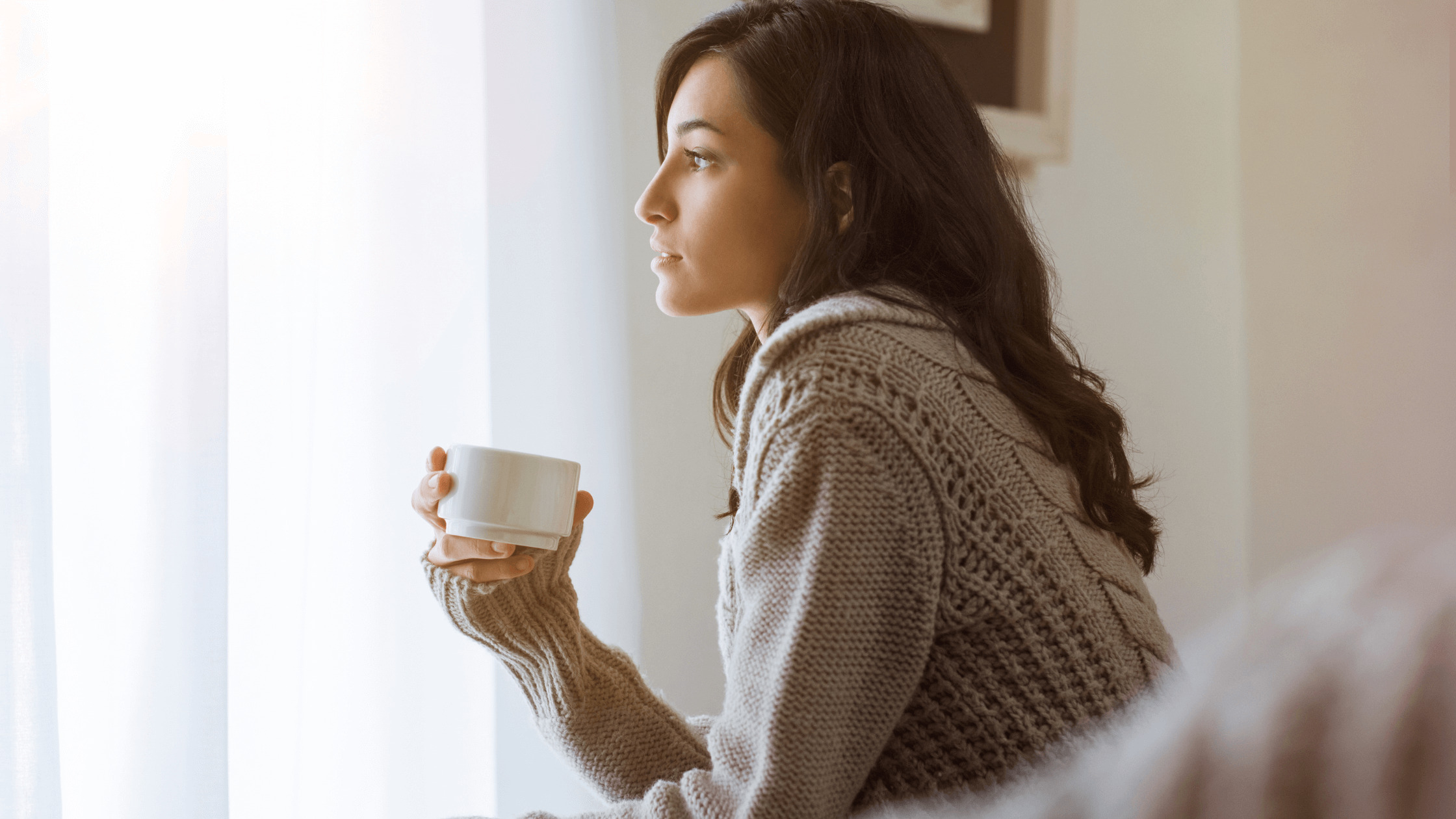 It made me realize God created life to be simple–He put Adam and Eve in a garden, not a busy office. That doesn't mean He wants us to stay in the garden. But it does remind me that overall life is pretty simple. It's about God.
So even though God wants me to get things done today, He also wants me to remember that His yoke is easy. His burden is light. He doesn't demand perfection. He doesn't demand a finished to-do list. Nothing drastic will happen if I don't write this blog post and tape the podcast.
This automatically started relieving my stress. I was starting to feel pretty peaceful by this point. I went back to the Scripture and I could fully engage with it as I worshipped God through those ancient words of David:
6 Come, let's worship and bow down, Let's kneel before the

Lord

our Maker. 7 For He is our God, and we are the people of His pasture and the sheep of His hand.
At that point I stopped. I could see that the Scripture switched gears, but I felt like I'd already received a wonderful lesson from God. I decided to save the rest of the passage for tomorrow. Before I finished, I went back up to the top and read the passage again.
I read it differently this time than I had the first time because I'd taken the time to meditate on it and apply it to my life. The first time I read it I was stressed and distracted. When I read it again, I was peaceful and free and rejoicing with David.
We'll look at another example of how to meditate on Scripture in a minute. First, let's look at some reasons to meditate.
Reasons to Meditate on Scripture
There are many reasons to meditate on Scripture. We just looked at one of them–it changes our attitude! Here are some other reasons to meditate on Scripture:
It changes our perspective. The more the word sinks into us, the more we think biblically rather than culturally–and life always looks better when you think biblically.
It helps us break free from sin. God uses Scripture to empower us to change things He wants us to change. There's an old hymn called There Is Power in the Blood. There's also power in the Word. Jesus used that power when He was tempted by Satan, and we can use that power when we face different temptations. God uses truth to set us free and His Word is truth.
It gives us peace and joy in situations that don't warrant it. Remember David? He'd often begin a Psalm super depressed but he was often joyful by the end of it. His spirit lifted because he started to see life from God's perspective which led him to trust and hope in God.
It helps us understand God's Word better and also get to know God better. Reading Scripture is always good. But when we take the time to meditate on it, we'll get to know it–and God–at a much deeper level. It's like the difference between our relationship with the friendly grocery store clerk and a loved one. Even though they're both great people, we know our loved one far better because we spend a lot more time with them.
It helps us replace bad thoughts with good thoughts. It's easy to go into a spiral of negative thoughts, especially if life isn't going well. Reading our Bible as a casual experience doesn't usually grab our minds enough to scatter the negative thoughts. But if we get our pen and paper out and spend some time meditating on a Scripture passage and looking at how it applies to our lives, we'll be far more likely to end up with a clearer, more peaceful mind by the end of it.
It helps us memorize Scripture. I'm terrible at memorizing Scripture, but I've found that it's easier to memorize it after I meditate on a verse. For some reason, fully understanding a verse and seeing the connections makes it easier to memorize.
It can help us be aware of God throughout the day. If we keep a Bible verse close to our thoughts throughout the day, it will help us remember that God is there and take time to visit with Him.
How to Use Scripture Meditation to Break a Habit – An Example
I'd like to include one more example before we finish: how to meditate on Scripture to break a habit. For this purpose, I'd look for a relevant Bible verse first rather than just using whatever I'm reading that morning in my quiet time.
You can easily find Bible verses for negative emotions, habits, and losing weight in the Renewing of the Mind Project or I Deserve a Donut (and Other Lies That Make You Eat). Let's try meditating on 1 Corinthians 6:12:
All things are permitted for me, but not all things are of benefit. All things are permitted for me, but I will not be mastered by anything.
How would you diagram that verse? Do you see any connections right off the bat? If you want, take a minute to diagram it. You don't need to diagram a sentence to meditate on Scripture, but it's helpful if you have a pen and paper at hand.
Right away I noticed that one phrase was repeated twice: all things are permitted for me. I think to myself, Really? I don't think I'm permitted to murder. So right off the the bat I start thinking, oh, Paul must be talking about things God hasn't told us not to do–so neutral things.
I then think about my habit. Let's say I'm working on trying to control how much time I spend on the Internet. I think, Well that's pretty neutral as long as I'm looking at okay sites — so I would say it's permitted for me. Then I look at the passage again and notice there are two other phrases. I would probably take the time to diagram the passage at this time. It would look something like this in my journal.
Scripture Diagram for 1 Corinthians 6:12
I'd look at that diagram and think, I wonder why Paul just chose two thing to talk about: 1) Not all things benefit and 2) I won't be mastered by anything? I'd mull this over for a bit and realize it makes perfect sense. Too much time on the Internet is not beneficial to me and it can control me – it's a hard habit to break.
At this point I could go in a number of different directions. I might make a little chart that says "Benefits of Controlling Time on the Internet" and "Benefits of Letting Myself Spend As Much Time As I Want on the Internet." Or I might just think of how I feel when I spend too much time on the Internet and how it affects my life. Then I might go back to the passage again and read it all over.
That's when I'd remember to look at the other part of the verse: I will not be mastered by anything. I'd ask myself, Does the Internet master me? Can I easily stop? If I can't, I might visit with God about that. Maybe I'd come up with a set of boundaries for how much time I could spend on the Internet. I might make another commitment to renew my mind whenever I broke my boundaries.
Or I might ask, "Why does God want me to control of my habits–and not have them control me?" This could lead to all kinds of helpful insights.
In Summary
So basically Scripture meditation is taking the time to really interact with God and the Bible passage in a way that will impact you.
I did that this morning with Psalm 95 and I've been peaceful all day, doing what I needed to get done (including writing a much longer blog post than I needed to write!) and doing it peacefully and joyfully.
With breaking a habit you'll have to meditate on Scripture or renew your mind throughout the day. But with some things, the truth can last all day.
And that's a wonderful thing!
How to Listen to the Podcast:
Stitcher: Click here to subscribe or listen on Stitcher.
Apple Podcasts: Click here to subscribe or listen on Apple Podcasts. (If you haven't subscribed to the podcast on Apple, this can sometimes take a few hours to update.)
Android: Click here to subscribe or listen on Android.
Spotify: Click here to subscribe or listen on Spotify.
Amazon Alexa: To listen on Amazon Alexa, say, "Alexa, play the Taste for Truth Podcast."