For years I tried to develop a consistent quiet time habit, but I just couldn't make myself do it. If this is something you struggle with, there is hope. God will help you develop a quiet time habit because He wants to spend time with you!
If you're in the place I used to be, I hope this post will help. Here are 6 steps that will help you start that quiet time habit.
6 Steps to a Daily Quiet Time Habit
Make a plan. It will be easier to follow through on quiet times if you have a plan. Set a time, a place, and decide how you'll spend your time with God. If you struggle with discipline, plan it for the time of day when you have the most self control. For many of us, that's first thing in the morning.
Find something that will help you discuss life with God. It's easy to think of quiet times as just another item on the to-do list. This makes us not want to do them. Instead, view quiet times as daily "dates" with God: a time to sit with Him and discuss the day, discuss life, and just plain enjoy Him. Here are a few activities that will help with that (click on the highlighted words for more info): truth journaling, renewing of the mind questions, praying the Bible, and other tools from the Renewing of the Mind Tools tab.
Find something that will keep you interested. We've all experienced those times when we sit down to read the Bible and our mind wanders. When that happens to me, I try to stay focused by doing something that involves deep thinking or writing. Here are a few things that help me in those situations: meditating on Scripture, Bible studies, and Bible journaling.
Find something that will help you grow. If you think back to how the disciples spent "quiet time" with Jesus, a lot of it was spent in asking Jesus questions about how to live life. That should be happening for us too. If you'd like to work on growing in a specific area of your life, consider starting a renewing of the mind project and use your quiet time to go to God for help with it. This is a great way to grow closer to God as you learn to rely on Him for that area of your life.
Try not to miss a day, but give yourself grace if you do. After I reached the point where I loved spending time with God and almost never missed a day, I went to a Christian Writer's Conference (this is ironic) and went three or four days without having a quiet time. It shocked me how quickly I lost my desire to have quiet times. When I got home from the conference I had to make myself have my quiet time because I didn't feel like it. It will be easier to start and maintain a quiet time habit if you do it every day. Just don't beat yourself up if you miss a day! Quiet times are times to visit with God, not perform for Him. :)
Get an accountability partner. If you try these steps and still struggle, you may want to consider asking a friend to hold you accountable to having your quiet time for the first month or so until you establish the habit.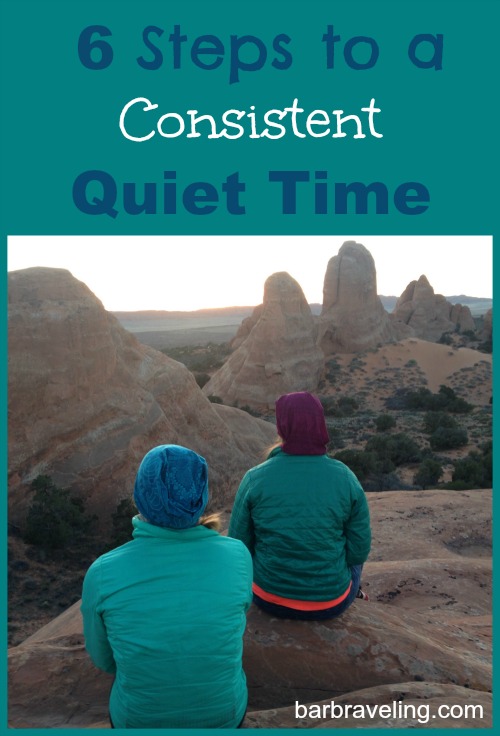 How I Structure My Own Quiet Time
Because people often ask me what I do for my own quiet time, I thought I'd share that as well. When I was first establishing a quiet time habit about 16 years ago, all I did was truth journal for the first month or two. Truth journaling got me excited about the Bible, but I wasn't ready for straight Bible reading yet.
Instead I started with published Bible studies (Beth Moore was my favorite), and then transitioned into straight Bible reading later. Currently I do a variety of things in my quiet time:
Prayer: I start my quiet time with a few minutes of talking to God and reconnecting.
Renewing of the Mind: If I'm feeling emotionally distraught in any way (worry, stress, etc), I'll renew my mind first by either truth journaling or answering some questions from the Renewing of the Mind Project. This frees up my mind to focus on my Bible reading. I spend up to 25 minutes renewing my mind to make sure I have time to read the Bible.
Confession: I usually confess my sins while I'm renewing my mind because I usually find that there is some sinful attitude causing me to be stressed. On days I don't need to renew my mind first, I do a quick relationship check. Am I feeling close to God? If not, it's usually because of some sin, so I think through the previous day and confess any sin that comes up.
Bible: Then I'll read whatever Bible portion is on my list for the day (I'm going through a read through the Bible in two years program). Sometimes I'll journal about what I'm reading in the Bible, and other times I'll just meditate on the Scripture. As I meditate or journal through the Scripture, I'll intersperse that with talking to God about whatever comes up. If I'm doing a Bible study with my church, I'll usually use one or two quiet times a week to do the homework for the study.
Miscellaneous: I'll also sometimes just sit and enjoy God without saying anything. Another thing I like to do if I'm reading a New Testament passage is to read it in my interlinear Bible and check out the Greek if I see anything unusual in the passage.
Time: I used to just have quiet times without setting a timer, but as I've grown in the area of setting and working towards goals, I've been tempted to cut my quiet times short to get started on my list for the day. Because of this I've started using my FocusTime app to make sure that doesn't happen. I use 2 Pomodoros for my quiet time (50 minutes total). This also helps me know when I need to switch to Bible reading if I've been renewing my mind first. I probably renew my mind first about half of the time.
Intercessory Prayer: I do this as I think of it and throughout the day, but I'd like to become more disciplined about this. One of my friends goes on a walk every day and does her intercessory prayer on walks.
Having a Quiet Time with a Busy Life
If  you have small children or an intense work schedule, you may have to get creative to find alone time with God. Lunches, work breaks, nap times, getting up early, or those middle-of-the-night awake times are all possibilities. I'll often have my quiet times in the middle of the night if I can't sleep.
You could also try talking to God throughout the day. In Practice of the Presence of God, Brother Lawrence, a 17th century monk, wrote about how to fellowship with God all the time, even while working. I recently started using alarms on my phone to help me develop this habit, and it's really been helping, not just with remembering God throughout the day, but also with stress management.
Also, I just found this great resource if you have little kids: How I Still Have a Quiet Time with 5 Little Kids.
What about you? I'd love to hear what you do for your quiet times, what your struggles are, or anything else you can share that would help others. Just leave a comment below if you'd like to share!