The telltale sign of emotional eating is that you feel driven to eat. You don't just see a brownie on the counter and want it; you go looking for the brownie because you need it.
Sometimes it's a desperate feeling – you need that chocolate right now – and sometimes it's just a case of the munchies with the vague feeling that something's wrong.
Either way, the outcome is the same. You break your boundaries. What you really need is something to satisfy the ache inside you. If only food could do the trick.
The truth is, food will never satisfy us in those situations. We'll always want more. Emotional eating is probably the driving force behind most of our high-calorie eating sessions because we're trying to fill ourselves up with something that can never fill us.
Journal About the Situation – Not the Food
If you're in an emotional eating situation, it probably won't help to journal about the food. Instead, you need to journal about the situation that's causing your distress. Get rid of the emotion, and you'll also get rid of the drive to eat.
The renewing of the mind tools tab up above is full of tools you can use to go to God to work through your problems.
When we go to Him for help, He gives us wisdom, comfort, and character growth. He also gives us a biblical perspective which, more often than not, helps us see that life isn't as bad as we think it is.
When we go to food for help with our problems we get five or ten minutes of comfort and a life of being controlled by food. It's not worth the consequences, but we think it is because it's so fun – and it makes us forget our troubles for awhile.
For a helpful post about emotional eating, click here: Journaling the Food vs. Journaling the Emotions.
Bible Study
What is the biggest trial going on in your life right now – or the one that's making you want to break your boundaries the most?
Have you tried renewing your mind about that situation? If not, what is keeping you from going to God to work through your problems?
What would your life (and your relationship with God) look like two or three months down the road if, instead of eating whenever that situation came up, you were to go to God to see the situation from His point of view?
Do the following Bible study with that trial in mind: Keeping the Faith in the Storms of Life. (It may also be helpful to do this Bible study with the trial of weight loss in mind!)
For the next week or so, try to go to God once a day for help with your trial. If you need ideas of how to work through your trial, check out the renewing of the mind tool category of this blog. (If I'm really in a turmoil, truth journaling works best for me.)
If you feel like eating for emotional reasons, try these questions from I Deserve a Donut (And Other Lies That Make You Eat):
Emotional Eating Questions
What's going on in your life right now that's making you want to eat?
What emotion are you experiencing?
Will eating make you feel better? If so, for how long?
Will eating solve your problems?
Will eating create any new problems? Explain.
What do your boundaries protect you from?
Do you need protection today?
What do you think God wants to teach you through this trial?
What can you thank God for in this situation?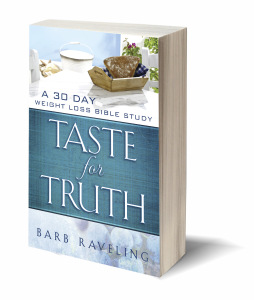 Taste for Truth: A 30 Day Weight Loss Bible Study is now available on Amazon.