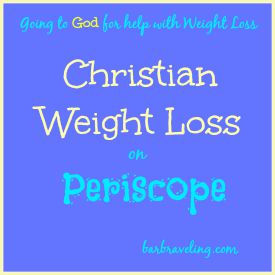 You know how you sometimes hit the middle of the day and want to give up on all your weight loss goals? Here's help! Beginning tonight, I'll be periscoping Monday to Friday on the subject of Christian weight loss.
I'll be broadcasting at 6 pm MST on Monday nights (this will be a Q&A session) and at 12:00 noon MST on Tuesday-Friday.
For the noon sessions I'll have a planned weight loss topic, and you'll still be able to ask questions at the end if you'd like. If I have to miss a noon scope, I'll record one in the morning so you can still watch one at noon.
Periscope
You may be wondering, "What is Periscope?"
Periscope is a new social media platform that allows viewers to chat with live broadcasters by typing in questions or comments and giving hearts (via taps on the lower right side of the screen). It's accessed by a free app you can download on your android or iPhone.
You can watch the broadcast live or watch replays for 24 hours on your mobile device. If you want to ask questions or get involved in the discussion, you'd need to watch it live. You can give hearts on both the live shows and the replays.
I've already done four broadcasts (called scopes), so if you'd like to see a sample of what they're like, you can click on the following links:
5/2016 Update: These are now available on my YouTube channel as the website that was previously storying people's old periscopes has recently been discontinued.
Christian Weight Loss and the Renewing of the Mind
9 Questions That Will Help You Stop Procrastinating
If you don't have a smart phone (I just got my first one last month) or miss a scope, you can still watch the episodes later on http://katch.me/barbraveling.
Why Christian Weight Loss?
If you're reading this and not familiar with my writing, you might be thinking, "Why Christian weight loss?" Isn't weight loss the same, no matter who is trying to lose the weight?
That's true, but the for Christian weight loss, we'll be talking about how to go to God for help with it. Here are just a few of the topics we'll be discussing:
Lies that make you eat (and truth that will set you free from the control of food)
How to rely on God for weight loss
Practical ways to renew your mind for weight loss
How to renew your mind on the go
How to persevere when everything in you wants to give up!
How Does It Work?
To access the broadcasts, first download the free app. Then follow the directions on this site to watch or read below. It won't take long to get the hang of it. Here are a couple of things to note:
The app uses data – so unless you're connected to wifi or have an unlimited data plan, be careful how much you use it!
When you first open the app, there are four buttons at the bottom. Click the 4th button (the one that looks like little people), then click the little magnifying glass on the top left, and you'll be able to search for my name (Barb Raveling) and follow me. That way my periscopes will show up in your feed.
To watch the scopes, click on the first button – the one that looks like a little TV. Any live broadcasts will show up at the top and the old ones will be underneath. Just click on the one you want to watch.
Don't push the third button (it looks like a circle with a little red half circle on the outside) unless you want to do your own broadcast! (If you do accidentally hit it, don't worry. It won't start broadcasting until you hit the "Broadcast now" button, and even then, it won't show your face until you click the screen twice.)
The app is in its early stages, so sometimes you might lose the connection when you're watching a live broadcast. Usually it will come back in again in a few seconds. If it doesn't, just click on the little X to leave the broadcast and then come back in again. Hopefully the app will get better as time progresses!
I think that's about it. Let me know if you have any questions! I thought this was pretty scary at first, but I'm getting more used to it now and think it will be a fun way to connect with each other!
Also, if you have any topics you'd like me to cover, or questions to answer, leave a comment below or comment on the scopes!
I'll plan to put these broadcasts out for the next three weeks, and then continue if there's enough interest!