Some people drink. Some people smoke. Some do drugs. I do stats.
Let me take that back. I used to do stats. Now I only do them in moderation with my truth journal by my side.
All it took to break free from my habit was a couple hundred trips to God to get His perspective on the situation. (And I have to keep going back if I want to stay free.)
Habits and Accountability
I also have an accountability partner. My accountability partner doesn't hold me accountable to not checking the stats. She holds me accountable to renewing my mind every time I break my boundaries with the stats.
This is helpful for a couple of reasons. First, I'm less likely to break my boundaries if I know I have to report to her each day. And second, I'm more likely to change permanently if I renew my mind every time I break my boundaries – because the truth makes me actually want to follow my boundaries.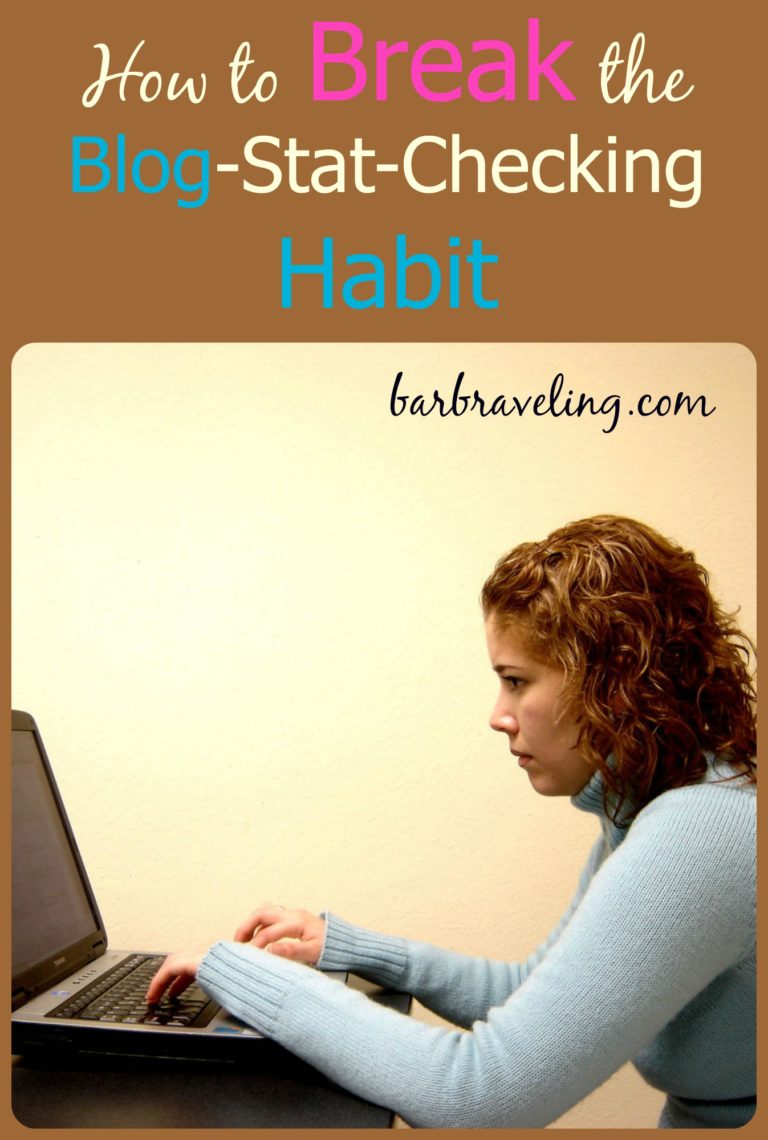 How to Break a Stat Checking Habit
If you want to break a stats checking habit, all you need to do is set a boundary (how often you want to check them) and then renew your mind every time you break your boundary – or feel like breaking it if you're willing to make that commitment.
You could use any of the tools I wrote about in the renewing of the mind tools section of this blog or this set of questions I wrote specifically for my own stat checking habit (Click here for a blank list of questions or check out the Renewing of the Mind Project.)
I answer these questions differently each time I ask them, but here are a few different ways I've answered them in the past.
Blog Stat Checking Questions
Why do you want to know how many people are looking at your blog?
To see if it's worth writing.
To see is anyone loves me yet.
To see if I'll ever be successful.
What do you think a high number will tell you?
That it was worth it. 
That people like me.
That I'm on my way to wild success.
Note: A high and a low number won't really tell my these things. I just think they will – as I answer the questions, I realize how ridiculous that is.
What will a high number really tell you?
That a lot of people happened to look at my blog that day.
What do you think a low will number tell you? 
That it wasn't worth it.
That it will never be worth it. 
That I should quit.
Is that really what a low number will tell you?
No! Everyone gets low numbers in the beginning. That doesn't mean we should quit blogging and it doesn't mean it's not worth it and will never be worth it. Here are a few things that would make it worth it even with low numbers: building up a body of lasting work to help others, helping others even if it's just one person, enjoying it as recreation, and using it to improve writing skills.
What else might a low number tell you?
That people don't know about my site.
That people don't agree with my philosophy or find my ideas helpful.
That people are discouraged and tired. They just want to get a pizza and a milkshake and watch a movie. (Remember, I normally blog about transformation.)
What are the chances the number will be as high as you want it to be?
Is it worth looking at for those odds?
No (This is the question that first makes me start thinking, Why am I checking my stats? This is crazy.)
Do you think God wants you to have boundaries in this area of your life? Why or why not?
Yes. Because …
He loves me and doesn't want me to get discouraged.
He loves me and doesn't want me to be enslaved by a number. 
He loves my blog readers, and He hates to see me minimize their value by turning them into numbers that will boost my greatness. (This is the point where I get kind of disgusted about looking at the stats and lose all my desire.)
He doesn't want me to focus on becoming great. He wants me to focus on doing His will.
Is there anything you need to accept?

Yes. That my stats might be low for years, maybe even forever. I can follow good platform building procedure, but ultimately, God is in control, not me.
What can you thank God for?
That life is not about blogging.
That I am not defined by my blog.
That God loves me no matter what.
And that I don't need to measure up to the expectations of others because God, the King of the Universe, says I'm acceptable AS IS.
2016 Update: If you'd like to see a list of the blog posts on blogging and ministry, click here. I've also written a book filled with the journaling questions and Bible verses I've used to talk through these issues with God and renew my mind about them. If you're interested in that book, click here.
P.S. Do you ever schedule a post, realize it needs work, but forget to unschedule it? That's what happened with this one! These questions could use a little work but they've still been helpful to me in the "as is" form so I thought I'd leave them since they already posted.