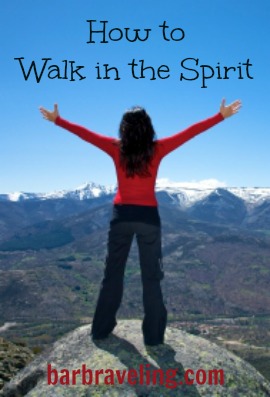 In my last post, I said that if we want to walk in the Spirit, we just need to ask Him for help.
Here's the question I want to ask in this post: Is that all we need to do? In other words, do we just ask Him for help and then, voila, God answers our prayers and makes life great?
I think we all know from experience that it doesn't always work that way. Often we ask God for help and nothing happens. This surprises us.
We've been trained by our culture (and sometimes the church) to think that all we have to do is ask Him for help and He'll make things better. And by better, we usually mean easy and perfect, with no more sinful desires.
But the truth is, we have to do more than ask Him for help because the Bible tells us to walk with Him, not sit around while He does all the work.
If I had just sat down in the Grand Canyon after giving my stuff to my family, I would never have made it to the top. I had to keep walking with them to get to the top.
The Fruit of the Spirit
In Galatians 5:22-23, Paul tells us what will happen if we walk in the Spirit: we'll receive the fruit of the Spirit. Love, joy, peace, patience, kindness, goodness, faithfulness, gentleness, self-control.
What does walking in the Spirit look like on a practical level? Here's what it would look like for me:
I'd go to Him whenever I feel like I absolutely have to finish my list for the day and that there is no way I will ever be able to get it done.
I'd go to Him when all the techy stuff seems impossible or I can't write worth a bean.
I'd go to Him whenever I get worried that people will condemn me for what I write.
I'd go to Him every time I start having the wrong motives for writing.
In other words, I'd go to Him every time I needed help, just like I went to my family when I needed help in the Grand Canyon.
Is That All?
But I wouldn't just ask for help. I'd spend some time visiting with Him–talking the situation over with Him and getting His perspective on it. I'm discovering that this is another way to renew my mind. Just visiting with Him about the situation and getting HIs take on it.
I don't do this all the time, but I'm starting to do it more often. And whenever I do it, I experience the fruit of the Spirit. I feel more joyful. More peaceful. I have self-control. I'm patient. And I write out of a wellspring of love.
But when I instead follow my natural inclinations and just waste time on the Internet when I'm stuck, insecure, or in a frenzy, I experience the opposite of the fruit of the Spirit. I get more stressed out. More negative. More discontent.
God wants to use my trials to train me. But if I want to be trained, I need to go to Him for the training. Often that involves abiding in the Word, truth journaling, praying Scripture, or renewing my mind with my donut questions, but sometimes it just involves a little time out and a short visit about life.
How About You?
Maybe you're in the same position I am – learning how to put God first in whatever phase of life you're in.
I've noticed that different seasons in life have different temptations and different ways to make life about things other than God.
I'm relatively new to this on-the-ball person life so I'm still getting to know the ropes of how to keep God first while working hard and pursuing goals.
It's tiring to keep going to Him for help with the same old things over and over again. And I know many of you are tired of going to God for the same things over and over again.
But the alternative – giving up the struggle – would be even worse. It would be the hiking equivalent of living the rest of our lives on the trail two miles below the top rim of the Grand Canyon. Not a very great existence!
Walking with God is an incredible life. We just need to remember to walk with Him!