If you've ever tried to lose weight and keep it off, you know that it doesn't happen overnight. In today's podcast interview, Teresa Shields Parker talks about five stages of the weight loss journey. 

Teresa is the author of several books on weight loss, including Sweet Grace: How I Lost 250 Pounds and Stopped Trying to Earn God's Favor. Teresa helps others lose weight through her books, coaching, and website and has kept her own weight off for more than five years.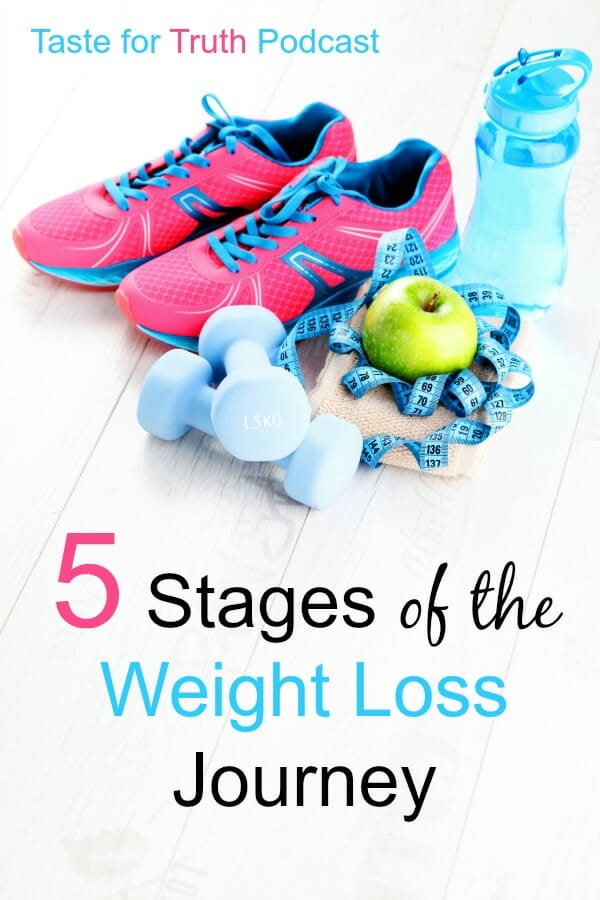 Following are the stages of the weight loss journey that we'll be discussing on the podcast:
5 Stages of the Weight Loss Journey
Wishful Thinker – In this stage of the weight loss journey, we dream about losing weight but don't want to go through the suffering to make that happen long-term. Instead we want the quick fix. We think, If I could just find the magic plan that works. When we accept that we're overweight and need to lose weight and that there is no magic fix we're ready to move into the next stage.
Willing Owner – This is where we own our addiction. Teresa tells how she was addicted to sugar. She lost weight whenever she gave up sugar and flour but whenever she got to her goal, she would reward herself with a high sugar or high carb foods and then she'd be back to gaining her weight back.In this stage you're committed to a lifestyle change – to learn how to lose weight and keep it off. You're saying "This is my issue and this is what I need to do to gain victory."
Watchful Learner – This is another long stage where we're learning the disciplines we need to break free from the control of food. At the end of stage two we know we need to do certain things to change, but we don't know how to make that happen. In this stage Teresa learned something she called "start stop" – stopping the bad habit but starting some good habits.She started by giving up one bad habit (eating candy) and adding one good habit (exercise). Teresa explains more about what this stage looks like on the podcast.
Wholehearted Traveler – In this stage we learn about how to deal with difficulties while still following our eating boundaries. This is the stage where we work through emotional eating and understand that failure is a part of the process. We also learn how to deal with failure. If we visit failure for too long, we'll need to go back the Watchful Learner stage to relearn the tools we learned in that stage. We may even need to go back to the Willing Owner stage where we make another commitment.

 

Wise Overcomer – In this stage we feel like we've mastered the journey. This doesn't usually happen until we've spent two years in the wholehearted traveler stage.

 
With all of these stages of the weight loss journey, it's about following God, submitting to Him, and learning to rely on Him for help with life. Teresa talks more about the process in the podcast.
For further information on Teresa's resources, click here: Teresa's website
How to Listen to the Podcast
Click here to listen and subscribe to the podcast on iTunes
Click here to listen and subscribe to the podcast on Google Play
Click here to listen and subscribe on Stitcher.
Click here to subscribe on Android.