It's hard to break free from entitlement eating because we hear the message everywhere we go:
Life should be fair. You shouldn't have to suffer. You deserve the good life.
This philosophy encourages us to eat in a couple of different ways.
First, we feel we have a right to eat good food when we see it. After all, we shouldn't have to suffer. We deserve the good life!
Second, we feel we have a right to have the life we've always dreamed of having. When life fails to live up to our unrealistic expectations for it,  we eat to console ourselves. After all, we shouldn't have to suffer. If we can't get the good life, we can at least get a good treat!
Our best – and maybe only – hope for breaking free from entitlement eating is to give up the whole idea of entitlement. We do that by getting a biblical perspective of life. The purpose of today's Bible study is to do just that.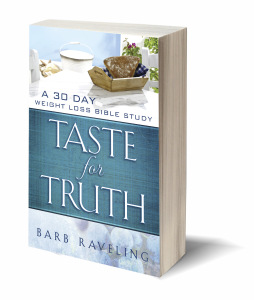 Note: An expanded version of this Bible study can also be found in Taste for Truth: A 30 Day Weight Loss Bible Study.
Bible Study
Read Mark 10:35-45 and answer the following questions in your journal.
What did James and John want? (35-37)
Why do you think they wanted that?
What did Jesus want them to do? (38-39, 43-44)
Why do you think Jesus wanted them to do that?
What kind of life did Jesus Himself have? (Mark 10:32-34, 45)
Why was He willing to live that kind of life?
What kind of life do you think He wants you to live? Explain.
List some ways you're currently serving others with a sacrificial love.
Can you think of anything else God would like you to do?
If you lived your life in terms of Mark 10:35-45 with both your behavior and your heart, would you be less inclined to give into entitlement eating? Why or why not?
Is there anything you need to accept?
Have a conversation with God about these questions from the I Deserve a Donut app or I Deserve a Donut (And Other Lies That Make You Eat) when you're tempted to give into Entitlement Eating:
Entitlement Eating Questions
What do you feel like eating?
Why do you feel like you have a right to eat in this particular situation?
Do you think God agrees with your outlook on life? Why or why not?
What usually happens when you live by your rights and your feelings in this area of your life?
Would your life be better if you gave up your rights and held life and food with open hands? Why or why not?
Are boundaries easy to follow or do you usually have to give up something to follow them?
What will you have to give up to follow your boundaries this time?
What will your life and body look like a few months down the road if you develop the habit of consistently following your boundaries?
When you think of all you'll gain, is it worth the sacrifice?