Podcast: Play in new window | Download (Duration: 21:01 — 18.1MB) | Embed
Subscribe: Google Podcasts | RSS | More
If I were to ask the question, "Have you been depressed at all during the pandemic?" my guess is that every single one of you would answer that question with a yes. I know I have. Many days are great, but there are also those days when I feel like I'm going to go stark raving mad crazy if this doesn't end soon! That's why I thought I'd do a blog post and podcast on how to stop being depressed during the pandemic.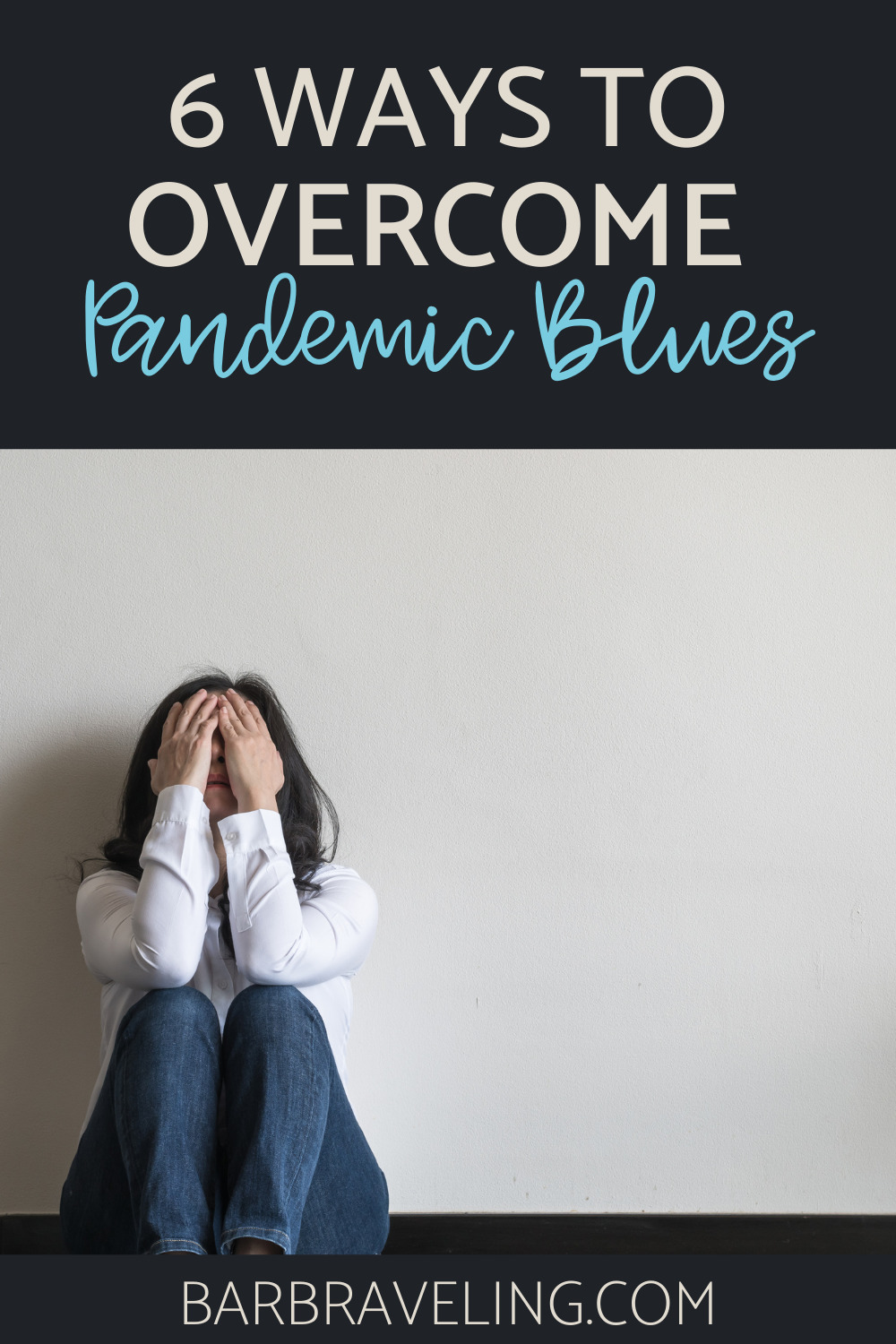 If you're reading this after the pandemic, the tips will help for regular life as well! The first thing I want to show you is how I came up with the tips. I find that if I renew my mind first, it's easier to see how to handle life. The following is an option chart I made to renew my mind about this issue.
This isn't a chart to brainstorm options–it's a chart to analyze the options we're currently taking to see how they're working out for us. The left column shows the options we often take during a crisis. I always put the healthy option choice at the bottom of the chart (the one we don't often take!).
The second column shows how that option affects our peace and joy, the third column shows how it affects our relationship with God, and the last column shows how it affects our lives.  An up arrow means that it improves that area (peace and joy, relationship with God, life) and a down arrow means that it makes it worse.
After you're through filling out the chart, take a minute to look it over and ask, "What's my best option?" I'll often find that I'm taking those middle options that don't get me where I want to go in life. The option that requires giving up my "rights"–and also putting out some effort to change life–is pretty much always the best option. I may know that intellectually before I renew, but filling out the chart helps me to see it at the gut level.
These are the tips I've come up with about how to stop being depressed based on the results of the chart.
How to Stop Being Depressed during the Pandemic (or in Regular Life)
Get a biblical perspective of the situation. From a cultural perspective, there's nothing good about trials (and a pandemic certainly qualifies as a trial), but from a biblical perspective there is. God uses trials to help us grow: to mature us, build our character, and help us grow closer to Him (James 1:2-4). Also, Jesus reminds us that life is about loving God and loving others. We can still do both during the pandemic, so life isn't terrible! It's only terrible when we think life has to be fun and exciting or safe or free to do whatever we feel like doing. If you're struggling with how to respond to the trial of the pandemic, ask yourself, "How would Jesus respond if He were living in your state or country during a pandemic?" Then don't get annoyed with your friend or neighbor if they come up with a different answer.
Renew your mind as soon as possible when you become upset. There's lots of different ways we get upset during the pandemic. We're fearful. We're annoyed. We're bored. We're grieving. And we're probably regretting some of our coping mechanisms. When we let those negative emotions simmer for too long, they morph into depression. You can avoid that by renewing as soon as possible. Try truth journaling to renew, or answer the questions in I Deserve a Donut (and Other Lies That Make You Eat) or the Renewing of the Mind Project for the emotion you're experiencing. I Deserve a Donut is also available as a free Android or iOS app.
Accept what you need to accept. Often what you need to accept feels unacceptable. But if you can't change it, you'll be far happier if you accept it. Here are a few things you may need to accept during the pandemic: 1) you don't get to make the rules in your state (unless you happen to be the governor of your state), 2) you can't make everyone do what you think they should do, 3) sometimes you'll have to put up with regulations you think are really unreasonable, 4) you may have to wear a mask at work now which makes your job WAY less fun, 5) you may miss out on some important things in life because of the regulations in your state or country or because you or your loved ones have COVID, and 6) you may even need to accept the death of a loved one which is incredibly painful. Accepting doesn't mean we don't grieve. We need to grieve! But it does mean that we learn to hold that thing we want with open hands, willing to give it up if necessary.
Work on making your life the best possible life within the context of what you can't change. Eat healthy. Exercise. Spend time outside. Call people and visit (maybe go on walks with them by phone). Go on hikes or walks with people. (We'll be doing a few snowy, wintery hikes over Thanksgiving.) Turn on a great song and dance–by yourself if necessary! Get out every day even if it's just to run an errand if you feel like you can do that safely. Set goals. Watch a funny movie (but not five funny movies in a row).Make plans. Schedule your day. Ask, "Who can I help or show love to today?"
Use this as an opportunity to develop a thankfulness habit. In 1 Thessalonians 5:16-18, Paul tells us to rejoice always, and give thanks in ALL circumstances. We can assume that also means during a pandemic. One way to develop this habit is to buy a journal or grab a notebook and write out five different things each day that you're thankful for. This trains your mind to look for the good in life. They don't have to be big things. Right now I'm looking out my window and I'm thankful for the little flakes of snow falling from the sky. I'm thankful for the larch in my yard with its rusty Fall needles. And I'm thankful (and shocked!) that I had the discipline to go to the store this morning at 6:30 am before the Thanksgiving rush.
Work toward change if you feel so led. Often people will say, "You're such a defeatist!" if you accept hard things. But here's the truth: Unless you can change things or unless you're the type of person that wants to go into politics or research or some other field where you may be able to make a difference, it's not defeatist to accept things. Often our only choice is to accept things with a good attitude or a bad attitude because like it or not they're happening. But while you're doing that (accepting), don't forget to work on items 2, 4, and 5 above because those are ways you can actually make a difference. #2 is what will lead to #1.
That's about it. I hope some of these things help. Life is hard right now, but it can always be harder so we have lots to be thankful for! If you're grieving today, take a little time to grieve, but then move on to these other things as life can be better.
Also, if you get really depressed, talk to a counselor or a friend. This isn't a good time to be alone!
Resources Mentioned on the Podcast
How to Listen to the Podcast
To listen or subscribe on Spotify: click here
To listen or subscribe on Apple Podcasts: click here
To listen or subscribe on Android: click here
To listen or subscribe on Stitcher: click here
Amazon Alexa: To listen on Amazon Alexa, say, "Alexa, play the Christian Habits Podcast."