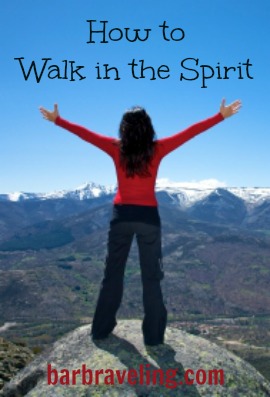 If you've been reading my blog for the last couple of years, you know I've been struggling with how to keep God first as a writer and a person who pursues goals.
After countless truth journaling sessions, going through Taste for Truth twice with my writing issues in mind, visiting with God over and over again about the same things, and even blogging about it and getting advice from you guys, here's the conclusion I'm coming to:
If I want to be close to God as a busy person who pursues goals, a morning quiet time isn't enough. I need to develop the habit of walking with Him throughout the day.
This was much easier to do back in the days when I wasn't pursuing goals.

Walking in the Spirit
Paul talks about walking with God in Galatians 5:16 where he says "walk by the spirit so you don't carry out the desires of the flesh."
In my current case, the desires of the flesh are to get my work work done quickly and easily! And when that doesn't happen (which it usually doesn't) my first impulse isn't to go to God for help. It's to waste time on the Internet.

If I want to stop wasting time on the Internet (or as Paul says, stop carrying out the desire of the flesh), I need to learn how to walk by the Spirit in this new-to-me pursuing-goals lifestyle.
What Does That Mean?
Walking in the Spirit is one of those phrases that means different things to different people. Here's what I think it means: You walk with Him throughout the day, just like you walk with your fellow hikers on a backpacking trip.
In other words, you visit with Him. You're quiet with Him. You enjoy life with Him.
You share the good and the bad, and when things get tough, you don't go your own way. Instead, you lean in closer and rely on His strength because there's no way you can do it on your own. Or maybe you could do it on your own, but it certainly wouldn't be as joyous.
I'm just recently back from a backpacking trip with my family (my husband and three of our four kids) to the Grand Canyon so walking with companions is fresh in my mind.
Learning to Lean
When I was on mile 26 of our hike, I was feeling a little non-joyous.
We had already hiked to the bottom of the Grand Canyon, done a 12 mile day hike on our rest day, and were now two miles from the top and still going up, up, up.
I was slogging, and although I was still enjoying the beautiful view and my hiking companions, I was exhausted.
My wonderful family (who are all in much better shape than I am) offered to carry some of my stuff, and I took them up on it. We stopped, and they cheerfully started grabbing things from my pack: my Kindle, my journal, my flip flops, my water bottles, my foam pad, even my sleeping bag.
When we started hiking again, I felt a huge weight off my shoulders. And while the hike was still difficult, it was much easier than before.
Walking in the Spirit is like walking with a hiking partner who is much more studly than you are. Not only do you have His incredible companionship, you also have His incredible strength. We just need to ask Him for help.
But what does that look like on a practical level? We'll talk about that in our next post. Click here to read the next post.