Do you ever feel like you will never break that habit that controls you? That's how I used to feel about my overeating habit. It was a stronghold in my life—a place I went to for comfort and something that controlled me.
Breaking free from a stronghold, sin, or idol is one of the hardest things you'll ever do. You'll have times when you feel like you have the problem licked, and then you'll be right back at it again a few months down the road.
The key to breaking free is to keep going to God for help, even in the midst of failure.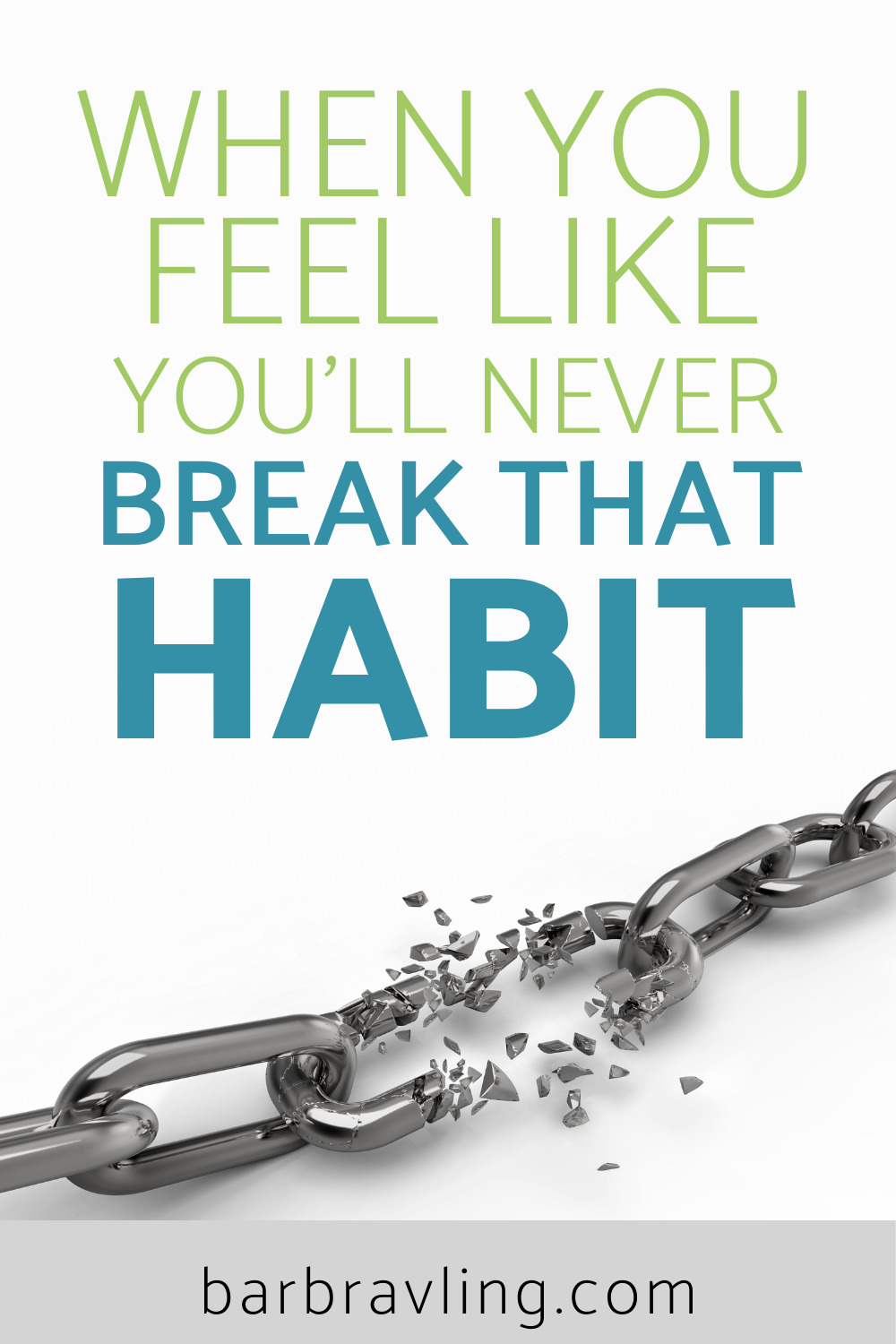 Today I want to post an entry from my journal from 2003. This was back when I was in the thick of my struggle with eating, although I didn't start living in sustained victory until about 2006. But don't let that discourage you.
I didn't know anything about lifelong boundaries at the time, plus I wasn't real consistent about renewing my mind. So it probably won't take you as long as it took me! The rest of this blog post is what I wrote in my journal that day.
3/14/03
Fear: I've blown my diet 2 days now. And I only lost .2 pounds last week.
Beliefs: 1. I will gain all my weight back. 2. I can't control it.
Truth: I can't know for sure. I might. 2. I can do all things through Christ who strengthens me.
What I want: To still be sticking to it perfectly, not to have broken it. This is not an option!! Also, I will probably do this again in the future.
Real life options:
Be fearful. Believe that I have no control.
Trust in God even though this is difficult! Stand on His promises. Take up the spiritual weapon of faith (Ephesians 6).
Give up all together. Quit trying to lose weight and try to escape from all of my fears.
Note: Some of the verses in the following chart are paraphrased since I took them straight from my journal.
| | |
| --- | --- |
| Satan | God |
| 1. I knew you would break it. You're a failure!!! | 1. Yes, you are a sinner, but I love you and forgive you. You are my beloved child. |
| 2. You can't do this. You'll break it again. You have no self control. | 2. I can do all things through Him who strengthens me (Philippians 4:13). Through death Jesus rendered powerless him who had the power of death, that is the devil (Hebrews 2:14).  Because He Himself suffered when He was tempted, He is able to help those who are being tempted (Hebrews 2:18). Although He was a son, He learned obedience from the things which He suffered (Hebrews 5:8). |
| 3. You are a terrible person who can't do anything. | 3. There is therefor now no condemnation in Christ Jesus (Romans 8:1). |
| 4. Unless you follow this diet perfectly without ever breaking it, you will not be able to maintain your weight loss (remember, at the time, I didn't know anything about lifelong boundaries!). If you break it a couple of times, you might as well give it up because you will never make it!! | 4. Consider it all joy when you go through trials, knowing that the testing of your faith produces endurance. And let endurance have its perfect result so you will be perfect and complete, lacking in nothing (James 1:2-4). God can use this suffering in my life to perfect me and draw me nearer to Him. There is a purpose to struggling! (Note: Today I would also add that we're transformed by the renewing of the mind, not by maintaining our boundaries perfectly.) |
Satan is flying his arrows of deceit at me (Ephesians 6:16) because he knows this is an area of real stumbling for me. I have 2 choices:
1. I can accept these arrows. If I do, they will pierce my body and spread all over. I will be hardened by the deceitfulness of sin (Hebrews 3:13). I will also accept Satan's lies which will render me incapable of believing God's truth and conquering this problem.
2. OR I can resist the devil and he will flee from me (Ephesians 6:14). I must gird my loins with truth (I did that with the Satan/God columns above), put on the breastplate of righteousness (try to honor God in my eating, even though it's incredibly hard now that I've broken my boundaries), read my Bible to keep my heart prepared, have faith in God to extinguish the arrows of the evil one and take up the sword of the Spirit which is the word of God (Ephesians 6:14-17).
Only through Him can I be successful. And I can feel confident because it is not I who walk alone, but He who lives in me who has conquered death and will give me success. And I shouldn't condemn myself for failure but know that God is using this in my life to build me into His likeness.
I thank God for the struggle as it will bring me closer to the One I love and make me more like Him. I need to persevere and use these struggles to draw me near to Him, knowing that He understand my weakness, does not condemn me, and is calling to me, asking me to turn to Him and away from the lies of Satan.
End of Journal Entry (Note: I'm not suggesting it's a sin to be overweight. This was a stronghold in my life so I was dealing with it from that standpoint even though you hear diet talk throughout the entry.)
Are you struggling to break free from your own stronghold? The truth is, God will use this struggle for your good if you keep going to Him for help.
Looking back on this entry from 11 years ago, I can see that God did use the struggle for good. And He broke me free. He's also doing that with the things I'm currently struggling with and He's doing it for you as well. Shall we press on together?
P.S. If you need help breaking free from a sin, habit, stronghold, or idol, see the breaking a habit tab or the Christian weight loss tab at the top of this blog.